THAW: Softening to Our Relationship with Our Bodies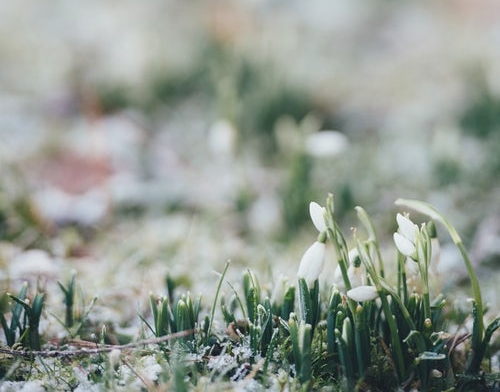 We are finally approaching late winter and moving towards spring! Nature around us is showing us glimpses of the light and new life returning as our days are getting longer and brighter and the first symbols of new life are starting to peek out of the ground; in our gardens and on the trees.
Just the other day, I took the time to begin stirring up the garden beds outside my kitchen window and was so surprised and delighted to notice how that first layer of soil was hard and brittle, in protection of the nutrients fostered in the dirt below. After breaking through that first layer, there was so much new life waiting!
So too, our bodies and souls, in rhythm with winter, may have gathered a protective layer around us, partly to help keep us warm and protected and perhaps also, to create space to nourish the more deeper, darker, nutrient dense parts of us in a soul kind of way.
I know that when the weather starts to turn towards spring, I have the desire to awaken, to begin to move in a more active way, to access the strength I know I have but perhaps was laid aside at times in favour of choosing rest and hibernation.
For many, the onset of spring can be a time to rise; a time to shed the parts of winter that we no longer need. While we make have the desire to "jump in with both feet" for change, our bodies naturally desire to move with the ebb and flow of nature. Our seasons don't necessarily change drastically. So too, we can slowly begin to shift away from one part of a season towards another.
Here at Re.Pose we're just finishing up our most recent yoga series. Our next series, Yoga for Embodied Self-Compassion, will begin the first week of April and run consecutively for 6 weeks. Between now and then, we are keeping the yoga studio open but in a different format.
We will be offering 6 classes in the month of March (in addition to Saturday drop-ins with Deanne):
Friday mornings at 9:30-10:15am, (March 2nd, 9th, 16th) and
Tuesday evenings at 7-8:15pm (March 6th, 13th, 20th). Taught by Carolyn Goossen.
We're excited to offer these time slots in a drop-in format. Each class is $15.
The theme for these classes will be THAW: Softening to our Relationship with our Bodies.
To thaw is to melt, to allow what has become hard and brittle in our bodies and souls to dissolve and melt. It can also be a soft and gentle way to be friendly with our bodies. All classes will be trauma-informed and the over-arching goal of each class, through the next 3 weeks will be to become curious about the dormant parts of us that want our awareness.
For those that have been coming to yoga classes at Re.Pose, these 3 weeks in March are an opportunity to bring someone who might be interested in attending a series but hasn't had the chance to experience yoga at Re.Pose before. Or, it is simply an opportunity for you to continue your practice in an intimate class setting without signing up for a full series.
For those that have yet to come to yoga at Re.Pose, this is a great opportunity to try it on. We would love to welcome you to either your first yoga experience or an opportunity to continue your yoga practice in a way that connects you with your whole being.
To reserve a spot (space is limited) for these special 6 classes, email yoga@reposetherapy.com. You are welcome to pre-register and pre-pay for your classes.